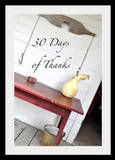 I'm thankful for…
1. Miss. L! It has been exactly 2 mo since her home waterbirth!
2. that she celebrated it by sleeping straight for 11 hrs last night!
3. ice. And how good it feels on back pain.
4. chiropractors who are in the office on Saturdays even when they weren't supposed to be and help relieve my immobilizing back pain.
5. my mom and sister who were home and able to watch Mr A while we made our unplanned trip to get my backed looked at and the unplanned mini lunch date I got with my husband!
6. my mom, who's birthday is coming up and the fun food and family time we had celebrating!
7. my sisters who were all home today and the very funny pictures we took!
8. laughing so hard that you cry and your stomach hurts! Which is what I was doing during our sister photo shoot! (as soon I as get them from my sister I will post them, don't worry!)
9. my children, who entertained us tonight… either by running around like a wild crazy man or by smiling sweetly and sleeping in ppl's arms.
10. that it isn't yet 10:00 and I just might make it to bed by then tonight!
a bonus thanks today that…
11. my husband hadn't quite walked out the door yet for Mr. A's NEW record breaking messy diaper. This was FOR SURE a 2 person job! I won't go into details… just imagine.
Join in for some thankfulness fun and link up with Connie at From the Heart of My "Haus"