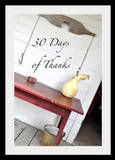 I'm thankful for…
1. that Monday is over so we are closer to FRIDAY! No big plans, it's just nice having the hubby home.
2. that after seeing the chiropractor today I learned I don't need to go back in until Friday! and I didn't have any pain today.
3. my Mothering Magazine came in the mail today!
4. that Granola Mom started doing this 30 days of Thanks and encouraged me to! It's helped me reflect back on my day in a positive way.
5. that I got to read more from Pride and Prejudice (It's just getting really good!) while my son played in the sunshine and sandbox!
6. for Ms. L… she's 9 wks today and we had a nice little photo shoot while her big brother napped.
7. for Mr. A and his super long nap! Long quiet afternoons are always good for a momma's soul!
8. our up coming Guess Who's Coming To Dinner night with our HF! I got more emails about how it's all going to work today… it's gonna be so fun!!
9. talking with DH about the next remodeling project on our house! Can't wait!! It's a big one too… definitely involving some demolition!
10. the amazingly happy news just posted from MckMama!
Join in for some thankfulness fun and link up with Connie at
From the Heart of My "Haus"