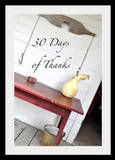 I am thankful for…
1. going to the park with some family and friends and watching my son s.l.o.w.l.y come out of his shell. Which is OK.
2. digging in the sandbox with Mr. A in the very warm sunshine this mid-November day.
3. evernote! my new organization obsession! this will be my new brain. Please watch the video… I want to be like Jill! (–minus the origami farm animals) By watching the video you'll also learn all about the magical cloud of elephants and how to become a super human! Tempting eh?!
4. that I have a working washing machine and drier to clean my cloth diapers and I do not have to do it by hand! Sometimes I wish I lived in the "olden days" (you know, like next to Laura Inglls in Walnut Grove) but I do not wish to ever wash diapers by hand!
5. ice, again. Silly yoga warm up hurt my back
BUT I'm in an exceptionally good mood today… sunny days make me happy…and usually also very productive… but I think God is telling me to slow down more (I already thought I was going slow) this back pain (again) has put a damper on my productivity today but I'm enjoying sitting and organizing my computer on evernote!
6. that my husband has a job even if it means he has to work reeeally long hour days.
7. the very yummy frozen lasagna from the freezer made by my MIL!
8. that tonight is Alias night! We are currently in the middle of season 2 from netflix… shhh… don't tell us what happens.
9. that today was another LONG nap… Mr. A woke up after 3.5 hrs of sleep-growing!
10. giving my baby a bath! Fresh, clean, cuddly baby!

(as for the quote from yesterday… I wish I could say it was from something powerful or meaningful or important… but it's from FRIENDS… Joey's in a few cheesy infomercials and the rest of the characters tease him about it. (I had (or have) a slight addiction with that show) (is this too many () in one sentence?)
Join in for some thankfulness fun and link up with Connie at
From the Heart of My "Haus"