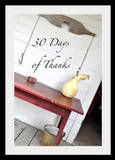 I am thankful for…
1. the yummy homemade chai and granola from Jodi!
2. that we were able to get up and get out early this morning to pick up awesome co-op food w/o being late, too many tears, forgetting to pick anything up or forgetting to GO altogether! (if you know us (me) this is huge!)
3. the fun homemade Christmas present idea I'm cooking up!
4. my car and its heat still work great… even with having over 224,000 miles and a battery light that is always on… still not sure what that's about??
5. that Mr. A learned to sign "I love you"! Tricky fingering for a little boy! He also learned "boat."
6. my great time with the Lord this afternoon while little ones slept!
7. no back pain
8. Granola Mom's new meme oh the fun books to be read!
9. Miss L's BEAUTIFUL smiles… which I'm still trying to capture on film… err my digital card
10. my husband came home while it was still light outside!
Join in for some thankfulness fun and link up with Connie at
From the Heart of My "Haus"