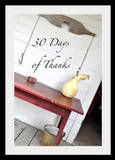 I was slow… I didn't start posting my thankfulness at the beginning of November… here is my day 9 of my 30 Days of Thanks
I am thankful for…
1. swamp soup. (I made it up today -when your son's (or your) soup is too hot to eat puree alota fresh raw spinach with a little broth and an ice cube (or 2) and add it to your soup until it's the temp. you want! Voila, swam soup.
2. DH and that he came home early!
3. the fact that it is Friday! and tomorrow is Saturday!
4. the nice warm weather yet again today! more playing in our HUGE sandbox -thanks for building it dad!
5. getting to read some of Pride & Prejudice
6. Mr. A, who counted today – I don't really even practice this with him! He counted the 3 ladders we have in the garage! and Miss L's amazing ability to nap like a champ! Seriously, she about as close to perfect as you can get!
7. oil cutting soap… that I used to clean up the oil paints Mr. A got into… not going to make that mistake again (the mistake of leaving it where he could get it!)
8. leftovers! No cooking tonight!
9. chocolate! Endangered Species Dark Chocolate!
10. the internet and texting… I love being able to stay in touch with my family and friends!
Join in for some thankfulness fun and link up with Connie at
From the Heart of My "Haus"