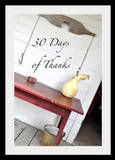 I am thankful for…
1. 10 wonderful years! Today marks the anniversary of when I started dating my husband….way back when I was a freshman in college! 4 yrs dating + 6 yrs married = wonderful! (we were gonna go on a fun date -but didn't realize you need reservations for this place much more in advance than we thought -so we are celebrating next wkend!)
2. the beautiful colors in nature! golden freshly harvested fields against a bright blue sky!
3. my husband and for sending me shopping today… BY MYSELF! (it was odd not to be carrying a child or a diaper bag, but I liked it) And it wasn't just grocery shopping… it was shopping for ME!
4. catching up with so many friends tonight. I miss them. Have to figure out how to see them more often!
5. more play-dates to come!
6. "spring"-like cleaning today, WITH THE WINDOWS OPEN!! This weather makes me so happy!
7. my husband for helping me clean… he even washed windows!
8. my husband for helping me make progress on the mountain of paperwork that need to be filed. (seriously, I don't think I've filed since before I was pregnant.)
9. my computer, even if it is mighty slow, I have a computer and I'm thankful for that!
10. today! It was a good productive and restful Saturday!
Join in for some thankfulness fun and link up with Connie at
From the Heart of My "Haus"