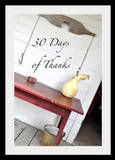 I am thankful for…
1. this day that the LORD has made! I am rejoicing and glad!
2. the nap I got today… even if I wanted it to be longer.
3. our friends who surprised us tonight for dinner. It was our Guess Who's Coming To Dinner night with our home fellowship. Some families hosted and some surprised the host-ers (?) Hosting families provided the dessert, guests brought the meal.
4. learning new games! Tonight we learned Farkel! I didn't win but it was still fun! The dice were not my friends.
5. the success of my first pie -EVER. Yes, I have never made a pie -until tonight! I cooked the pumpkin and made it all from scratch! (well except the curst -it was an organic one from our co-op… so I guess I'm not a true pie-baker (Granola Mom's recipe) It was yummy!
6. another Sunday of sitting together with my husband in church! (and not being called back to the 2's room to a crying little boy)
7. our clean house -what a nice way to start the week!
8. the snugly time I got with Mr. A reading in bed with him before his nap and bedtime!
9. our health. I pray we can continue to stay healthy thru the winter season.
10. that I can make my husband laugh!
Join in for some thankfulness fun and link up with Connie at
From the Heart of My "Haus"