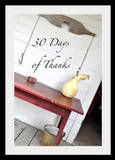 I am thankful for…
-an even happier baby… than she already was!… after her first visit to the chiropractor!
-getting a short nap AND a shower during the kids naps!
-the sunny day we had with a bright blue sky!
-getting to play so much with my kids the past two days even if it means my google reader and inbox are outa control!
-a son, who said to me today… "read more Bible!" and brought me his Bible!
-a son who knows his Bible verse already! we are still working on the reference, but I hung the verse up in his room and when I got him up from his nap he pointed to it and said "God is love!"
-getting to go on a date tonight… like a real, for-real out to dinner date! Haven't done this in over a year!
-my mom who babysat so we could go to The Melting Pot! sooooo gooood!!
-a salad, three courses of fondue and a blackberry sage lemonade!!!
-a full fun day planned for tomorrow!
Check out
From the Heart of My "Haus
and
30 days of Thanks
during the month of November.
Join in and link up and tell us how God is blessing you!