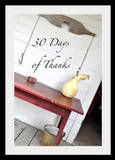 I am thankful for…
– a fun morning at the zoo with friends!
– a son who obeys well and didn't need to be strapped into the stroller the whole time at the zoo
– a son who's talking much more and saying longer sentences!
– a daughter who slept most of the zoo trip in the wrap… I love holding her in the wrap, having her so close right there!
– a daughter who I think will be sleeping the night in her crib for the first time!
– my mini-crockpot! (currently using it to soak beans for humus)
– my husband! He takes such good care of me and our family!
– banana chocolate chip muffins
– new babies soon to be born! (no, not mine. I am not pregnant.)
– going to bed late b/c of having a friend over and staying up talking!
Check out
From the Heart of My "Haus
and
30 days of Thanks
during the month of November.
Join in and link up and tell us how God is blessing you!