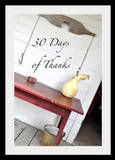 Today I am thankful for…
~my husband and all his musical talent!
~my sisters
~a fun photo shoots with my sisters
~my parents
~their warm fireplace this morning
~getting to go out tonight with my husband!
~my in-law who babysat so we were able to get out!
~the great high school I went to… we had our 10 yr reunion tonight!
~catching up with old friends
~Miss L and that she is back on her old good sleeping schedule!