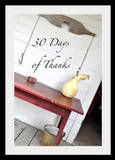 Today I am thankful for…
~ soft piano music
~ small pockets of stillness
~ that I am not alone.
~ big mugs of hot tea
~ a much much much needed nap–for 1.5 hrs!
~ watching White Christmas!
~ watching Mr. A be creative with his toys and playing in the fort we built
~ DH coming home a little earlier than normal!
~ a day with very very little computer time.