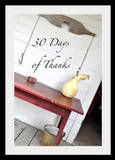 Today I am thankful for…
~ watching Julia Childs cook a duck while rocking Miss. L (remind me of Julie and Julia -which I saw while holding Miss. L in my tummy!)
~ a very very encouraging visit with friend!!
~ learning new tot school ideas (hopefully someday soon I'll finally get another post up about this… I have weeks worth of pictures)
~ exercise with Jillian!
~ getting our 1st Christmas card in mail
~ a good quiet time
~ getting a chance to listen to my husbands band! WOW they are good! And I'm not saying that b/c I know the bass player!
-I'll keep you posted when the CDs are ready!
~ getting the chance to go out tonight and do a small bit of Christmas shopping by myself!
~ Mr. A… who took a LONG nap today! (maybe making up for the past 2 days in which he did not)
~ going to bed early!