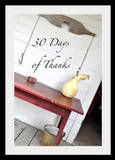 Yesterday I was thankful for… (and still am today)
~ for our chiropractor, the ladies of the house got to see her today
~ my husbands office being so close to the chiropractor so we got to seem him too
~ my almost three month old baby girl! I'm SO blessed by her in SO many ways
~ a successful first trip to the store with 2 children. (we did have one minor incident, but I did not panic and remedied the problem promptly)
~ well behaving children in the car for a lot of driving
~ a quiet afternoon, even if it didn't involve a nap I got to spend it with Miss L
~ warm slippers
~ friends coming to visit
~ playing games with friends
~ Conny at From the Heart of My "Haus" for starting this!