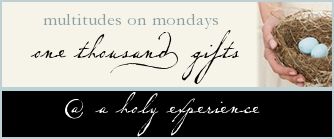 one thousand gifs and more…
#1014…freshly painted toe nails
#1016…learning more and more the value of waiting and patience
#1017…audiobooks on my phone to keep me company while I clean (just finished Little Women!)
#1018…Young Living oils, healing.
#1019… humidity… even tho it's mostly horrible, it DOES mean winter is behind us!
#1020…trees budding
#1022…a bike ride walk (first one with both kids on a bike!)
#1024…making homemade blueberry syrup
#1025…to go with the coconut flour blueberry pancakes!
#1026…Lydia slept until 8am, FOUR days in a row! must be growing!!

#1028…a long book club lunch, food I didn't have to make, visiting with friends and sisters, discussing a great book (Three Cups of Tea)
#1034…a surprise new phone from David!
#1035…experiencing excellent customer service and lightening fast speed of assistance!! (the Apple store, of course!)
#1037…David and Aaron, dad and son, spending hours together outside!
#1039…hearing Lydia say new words (this week Ray-ray (for Aunt Rachel), apple and trash (which makes me laugh but she says it perfectly clear!))
#1040…homemade kettle corn
#1042…the smell of a Spring morning
#1043…playing with bubbles (Lydia LOVES them… but still teaching her not to lick the wand.)

#1044…almond flour chocolate chip cookies, my new love.
#1045…the weatherman being wrong… no storms, just SUN!
#1050…kids sleeping through the storm and sirens
#1051…a clean kitchen sink… even if it only lasts 10 minutes
#1053…pandora, music for my soul.
#1054…no pressure to blog, just blogging when inspired and find the time.
#1055…an empty grave!!!!!!
#1056…He Is Risen!!!!!!!!!
#1058…fellowshipping with friends while cleaning the toys at church!
#1059…Warrior Prayers…#21daysforsons
#1060…the freedom of less stuff… the refreshment found in decluttering
#1061…more words from Lydia (blue, purple and numbers 1-6!)
#1062…watching Lydia color and carefully choose the next crayon
#1063…crystal clear, clean windows!
#1064…spring like warm weather breaks between all this RAIN!
#1065…a family trip to the library
#1067…p90x
#1070…my AWANA cubbies group!!!
#1072…iced tea in the afternoon
#1073…green grass
#1076…losing weight.
#1077…plenty of rain for grass, flowers and garden
#1081…eight hours of sleep and a restful Sabbath
#1084…a game that helps me learn (words with friends!) (I'm a horrible speller! I'm sure you've seen many typos on here :/ )
#1084…a quick visit from parents and grandparents during the only sunny part of the weekend!
#1088…the stomach bug is gone!
#1089…the sun has returned!
#1092…fresh cut flowers on the table
#1094…not being alone, even when it feels like it.
#1095…celebrating 20 amazing months of Lydia
#1096…going to see my sister pole vault! first time this season! she's amazing! amazing!
#1097…Ivanhoes for lunch. THE lunch place!
#1103…sunshine and open windows
#1104…waking up before the kids, soaking in the calm and quiet
#1107…a clean van inside and out! Thanks NLCF youth!
#1108…park season is upon us!
#1109…a new reading chair, just his size!
Join in! Share your thanks! the gratitude community at A Holy Experience.