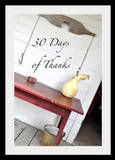 I'm thankful for…
1. a great nights sleep and the lack of pain in my back when I woke!
2. my church! It was a great morning of worship and the Word!
3. that Mr. A played and had a good time in Sunday School! Hooray for no tears the whole time at church!
4. that I have such a good baby! She took a reeeealy long nap today! Must be growin!
5. that my sisters came over for lunch today! No pictures this time, just a yummy Sunday lunch and a relaxing afternoon! (oh… and… my husband when and got us all DQ treats!)
6. that I got a chance to start a painting! When I finish it will go in the front room.
7. that my husband cleaned up the kitchen while I had to sit and ice my back again.
8. the homemade kettle corn my husband is making right now!
9. our home fellowship group! I missed them tonight since we had this week off while in between studies… next on the list, Ester!!
10. the most beautiful fall weather we had today! November 8th and we had the windows open… can't beat that!