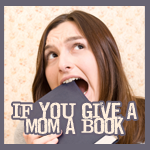 We ready many books through our week. I'm choosing to blog about this one:

I thought it was going to be a much different experience than it was. When I read about Granola Mom's new meme. I was so excited and began dreaming about curling up with some amazingly sustaining books to read with my children.
Hmm… maybe that dream will happen… but maybe sometime way in the future. In reality my son is 2 and my daughter is one day shy of 10 weeks.
Our story time looked more like this:
Me on the couch in the front room.
Bright sun-shinny day.
Miss L sleeping upstairs.
Waiting for Mr. A to jump into my lap so we could cuddle and read.
But…
Mr. A was more interested in climbing and flipping himself all. over. the. couch.
And running in and out of the room, throwing toys around.
The last place he wanted to be was sitting still in my lap.
I read the book aloud.
I think he heard it.
I think he looked at a few of the pictures.
I tried to talk to him about the book. He was more interested in playing and moving.
This was a new book. He likes animals. We have a garden. They drink tea. I thought he might be interested.
I didn't remember some parts of it. I'd like to find the full version and read the whole story.
While I was pregnant we would lay on his bed and read books for 30 min, sometimes a full hour! What happened to that boy? Maybe I just caught him at the wrong time for this book. Maybe the pictures weren't bright and colorful enough.
I'm learning.
And I KNOW Mr. A is learning every day.
I will continue to read to him. No matter where he's sitting -or running/jumping/playing.
Thanks Granola Mom for starting this! I'd love to hear what you are reading to your children! Link up and join the fun!