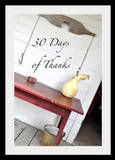 I am thankful for…
1. this week, which is half over
2. the open gym hr I just learned about
3. seeing Mr. A have so much fun playing on trampolines, rings, bars and balance beams.
4. Miss. L sleeping the whole time we are out
5. only having half a week until the weekend
6. my crockpot, again. Such a great assistant in the kitchen!
7. taking naps on cloudy days.
8. it being the middle of the week… it's all down hill from here, right?
9. the zoo pass Mr. A got for his b-day… and maybe using it this weekend with friends!
10. that I'm finishing my thankful list early today!
Join in for some thankfulness fun and link up with Connie at
From the Heart of My "Haus"