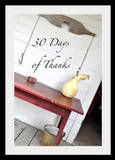 I am thankful for…
1. a little time out tonight to getting my hair cut
2. small coloring hands… even if they are covered in marker

3. iTunes… I love that I can buy just the songs I want to play and not the whole cd
4. I have more memory in my computer now! (too bad I can't buy memory for my brain 😛 )
5. getting to see some Christmas lights while I was out driving! It made me smile.
6. having clean clothes… even if they aren't folded or put away
7. getting to read a little bit of my book. (I'm really getting to the good part, I'm at ch. 52 of P&P)
8. these 15 days of thankfulness. They've helped me have a better outlook on things!
9. the workout time I got with Jillian -I made it thru the whole thing!
10. two new mugs! Perfect for some hot tea or chai!