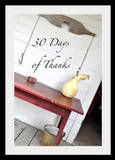 Today I am thankful for…
~ the pile of books that I gave my son -who hasn't napped for 2 days- and that they kept him quiet for a few more min so I could have some quiet this afternoon.
~ my friend Kristen who suggested a great crockpot meal yesterday! We are trying it today and it smells wonderful!
~ the glass storage containers my MIL got me! HOORAY!
~ hot tea, lots of hot tea.
~ the rainy day -that made me slow down
~ that I've been consistent in looking for the positive things all these days that I'm thankful for -some day -like today- I really really need to make a thankful list
~ my son's cough is starting to go away
~ google calendar -without it I would be lost most days.
~ a little time reading today (I'm currently reading Blue Like Play Dough -will definitely be posting about this when I'm done!)
~ getting my list done early today and a night of (hopefully) finishing the painting I started weeks ago for our front room!