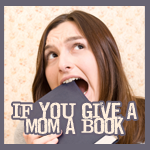 This is a cute story book of a classic Christmas carol. Many animals and little heavenly hosts characters gather together to adore the sleeping baby, Christ the Lord.
Mr. A, daddy and I read this together. (Miss L was snoozing in the next room.) We all piled on his little twin bed to dive into this book while Mr. A jumped all around, like any 2 year old does.

I'm not sure how much Mr. A got from it… I although, was particularly amused by the illustration of the little heavenly hosts push and pull the barnyard animals onto the stage trying to get the manger nativity scene together. These animals seemed to be rather stubborn. I imagine the original manger scene with animals of a much different attitude.

But it did give me an opportunity to talk with Mr. A more about the story of Jesus' birth. Today he seems to be all about the star… although this book didn't have a star IN it. At church on Sunday he made a star ornament and today while I was out with Miss. L he and daddy made a paper star for our tree –which is still lacking the proper amount of lights and more ornaments (that the one he hung himself.) (wow, that was a long sentence!)
(I'm still searching for the perfect tree topper -I would like a nice classic star… one of these years I'll find it… maybe it will be this year!)

Anyway… back to the book. I would consider this our sustaining book last week because of the conversation it started. At this point the conversation is mostly one sided but I know he hears me and I'm sure understands more than I think!
Happy reading and link up with Granola Mom and share your sustaining books!