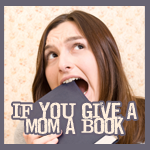 FOOD for thought
by Saxton Freymann and Joost Elffers

This is one of our favorite books… nice and long for a 2 year old. But he sits engrossed in the pictures from start to finish.
I like the creativity of the writers/artists. Hopefully it isn't teaching him to play with his food… but even if it does trigger those thoughts maybe he'll learn to create with his food not play!

As you can see from the cover it has shapes, colors, numbers, letters and opposites… all made with food! I love that Mr. A knows what the pictures are AND most of the fruits or vegetables they are made from!

Last week I started putting Mr. A down for his nap a little later than usual. He wasn't going to sleep right away and now we use that extra time for reading more books! He loves the one on one time –back like we did A LOT while I was pregnant with Miss L! Plus, you can never read too many books. Really!
We snuggled on the couch right in front of the Christmas tree reading this book over and over!
This book I think is where Mr. A learned to match upper and lower case letters. We never worked on those but now he can match them somehow?!!
And counting as well! When we read the number pages I always count the little animals… and now he's started counting things! It's great! And pretty funny when he mixes the numbers up while counting… and throws letters in the mix!
I would highly recommend this book for your little ones. We also have Fast Food by the same authors.
Happy reading and link up with Granola Mom and share your sustaining books!