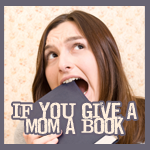 How God Gives Us Chocolate
by Henrietta D. Gambill
As you may have guessed… this is not a new book. It was mine when I was little… I don't know what happened to the cover (I think it's just been well loved.)
Check out this date… I was only ONE!

We read this book as a family. All four of us in the same room, reading together. I remember this book. Well, I mostly remembered the pictures and how it make me want to EAT them right off the page! (The same way the movie Chocolat makes my mouth water for chocolate! Good rich chocolate!)
It talks about where chocolate comes from and how God gives the rain and sunshine to make the chocolate tree (Theobroma cacao) buds flower and then the pods grow and seeds form.
In my reasearch outside of this book I learned that a cacao tree can produce close to two thousand pods per year. (WOW! and YUM!)
And to finish off… we made chocolate pudding. Just like they eat on the last page. Well, I'm sure not JUST like…

We made ours with an avocado, cocoa powder, a few dates and a splash of milk in a blender. Thick and yummy! (except my husband thinks he can taste the avocado too much -so you might need to add more dates or maple syrup to hide the flavor… 😉 or don't let them know what you put in it!
)