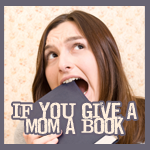 A Child's Treasury of Poems
Edited by Mark Daniel
Summary: A collection of rhymes,
verses, songs, lullabies and jingles from the
nineteenth and early twentieth centuries.
In school I was never into poems. I remember elementary school and trying really hard to finish those assignments with rhyming poems and other kinds of poems… but now, I don't remember any other kind.
When I was pregnant with Mr. A I was giving a baby shower with a book theme. New books, old books, favorite books. I believe this is where we were given this book. It was an excellent shower! We got books, not just for babies and toddlers, but older children as well. Every once in awhile now I'll go to the book closet and look for something new.
Last week I found this book.
I've been reading it to Mr. A before naps along with his devotional book.
I think I like it more than he does. But I like exposing him to books other than board books and picture books.
Do you remember Wynken, Blynken and Nod?! I remembered parts of it, but I never knew it was this long…
The book has these sections…
Daybreak, The Classroom, Playtime, Sunny Days, All Creatures Great and Small, Some Old Friends, and Sweet Dreams.
Don't those all sound dreamy!
It's a beautiful book including hundreds of full-color reproductions of oil paintings from the Edwardian and Victorian eras. There are also some prints of B&W engravings from the same periods.
I may not have been into poetry but I was into art. I minored in studio art and took my fair share of art history. I very much appreciate the art in this book!
Some of these anonymous verses date back to the 1500's and 1600's! I love it!
The poets include Robert Louis Stevenson and Emily Dickinson who I'm sure you know…
but also many that might be new to you…
there might be many poems you've never heard…
and many poems you forgot you knew.
Happy Reading!