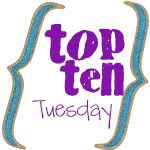 I decided to join in on the top ten fun… Being a lover of lists I don't know why I didn't do this sooner?!
Top ten favorite things about our move…
In NO particular order 😉
1. Helpful friends and family: they were all amazing! Simply amazing! Couldn't have done it without them! Moving on a Wednesday morning isn't the most ideal time, but it had to be… and our peeps showed up!
2. E-cloth for windows and floors. Seriously I love my e-cloth for windows! It's one of my VERY favorite chores!! I also love the wet-head mop! So fast and easy! No chemicals ever needed! They made cleaning both houses a breeze! (They don't pay me to say this. It's just fact!)
3. Smaller kitchen: sounds weird but I'm cooking and cleaning up so much faster because everything is right at my fingertips!
4. Awesome back yard: I love the size and perfect combination of grass and trees! Aaron has requested a sandbox and tree house… And Lydia… she just says she wants a purple house.
5. Being closer. Closer to church, David's office, friends, stores, everything!
6. Laundry room location: it's right by the kitchen and family room… where we are very often! It's not a hassle to lug it to the basement anymore!
7. More simplifying: I did tons of decluttering and simplifying last year and earlier this year when I read Organized Simplicity… But I'm finding even more things we don't use or need! So freeing!
8. No hiccups. None. I've never moved so I don't have a previous experience to compare this one too but the entire process of selling, looking, buying, closing on both, all the money details, change of possession of each… Smooth as fresh raw butter 😉 All in 33 days! God is SO good!
9. Seeing how happy the kids are here. It was very comforting to see Aaron take his first walk through with THE biggest smile the WHOLE time!
10. It's done! The move part is behind us. Now for the best part. Making it a home. Our home!